TECHNICAL DETAILS FOR DOUBLE BRAIDED ROPES

POLYAMIDE(NYLON) rope
POLYESTER ROPE
NOMINAL DIA (MM)
WT./100 MTRS (KGS)
Break.Load. (KGF)
WT./100 MTRS (KGS)
Break.Load (KGF)
6
2.4
950
2.8
830
8
4.0
1.450
5.3
1400
10
7.1
2.720
8.0
2200
12
9.5
3.180
11.5
3170
24
35.7
12700
45.9
12100
28
48.6
18000
62.5
16300
32
63.5
22000
95.5
21000
36
80.4
27000
103.5
26400
SAILING APPLICATIONS
Sea worthy ropes must be able to withstand the elements, including moisture, the sun's rays and in some cases, salt or even freezing rain. Sailboat lines made from durable, high-quality materials can help ensure greater satisfaction, whether the voyage is a pleasure cruise or a highly competitive race.

That's why we sell carefully-selected sailboat sheets featuring trusted braiding or weaving techniques. For example, double-braid polyester line is an excellent choice for jibs, spinnaker and main halyards.

The type of sailing you're planning also affects the choice of rope. For example, for day sailing, double-braid polyester should be adequate for most boats.
Features
Innovations to lead the way Range covers Polypropylene to UHMWPE Performance durability & quality built to last.
Our range covers ropes from Nylon, Polypropylene, Polyester, Aramid and UHMWPE Fibres.
Performance durability & quality built to last.
APPLICATION
Rigging Lines
Painter Lines
Spinnaker halyards
Topping lifts
Traveller control lines
Inhaul Lines
Main and Jib halyards on cruising and daysailing sailboats.
Mainsheet
Cunningham
Yoga Use
Sail Ties
Anchor warps
Halyards
Shipping & Marine (Tie Downs, Dock Lines, Anchor Lines, Slings, Jumper Lines)
Anchor Lanyard lines
Oil & Drilling
Cable Pulling/OPGW Stringing
Transmission Tower Erection
Ropes for theater and circus rigging
SPECIFICATION FOR SAILING ROPES

MAIN SHEETS (MATT & SHINY FINISH)
SIZE (MM)
MATT BS (KGF)
SHINY BS (KGF)
8
1000
1200
10
1400
2000
12
1600
2800
Construction
Most modern ropes are made of two components – a core that takes the bulk of the load, accounting for up to 95 per cent of the rope's strength, and a protective outer cover that provides abrasion resistance, protection from sunlight and so on. In the past the cover was also responsible for improving handling and comfort, but for performance boats this is now often sacrificed in favour of a small performance benefit. Some lines are used without a cover, particularly high-strength control lines, but these will normally have a coating that improves handling characteristics and provides some protection against ultra-violet radiation.

In racing only four or five major fibres are used for rope, which may be blended together in different ways to produce lines that are optimised for each function. Polyester is the most common single material.

Our ropes sheets will take you where you want to go..
Properties of rope fibres
| MATERIAL | STRETCH | Typical Use |
| --- | --- | --- |
| Polypropylene | medium to high | lightweight floating line used for man overboard recovery and occasionally as core for lightweight sheets on small boats. Poor UV resistance. |
| Nylon | very high | anchor rode |
| Polyester | fairly high / moderate | docklines, cruising halyards and sheets, low load control lines |
| UHMWPE and other aramids | very low | halyards, sheets and control lines for dinghies and larger raceboats |
SYNTHETIC WOVEN TAPES & WEBBINGS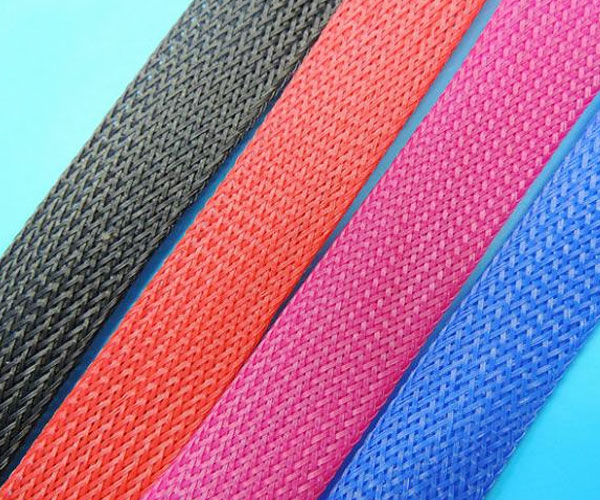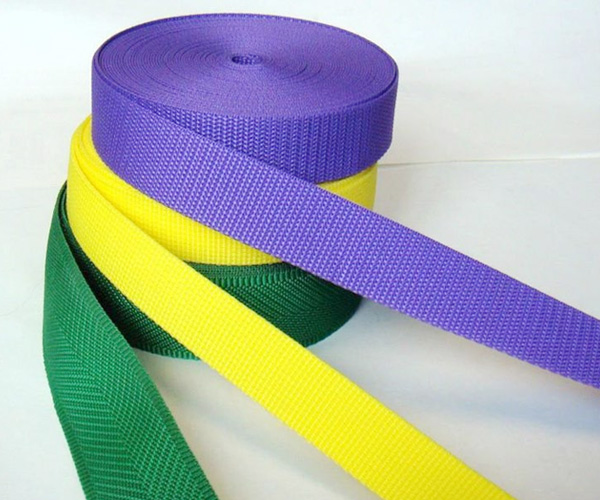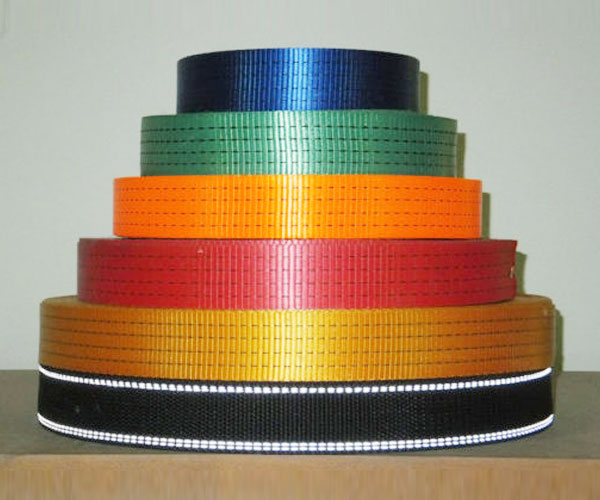 Features:
Made from Virgin material only
Widths available are ranging from 8mm to 100mm
Better finish, strength, colour and design
Assured longer life
Applications
They are made to each of our customers individual specifications. We also weave military specification webbings and commercial versions of military specifications.
Military Use
Luggage & Thermo ware
Adventure Sports (Slack Lining, Harness)
Industrial Use
Lifting Purpose
Curing tapes
Belts for Yoga
Nylon Rope Manufacturers in India : We are prime suppliers and manufacturers of narrow woven fabric in Mumbai and all over India. Our extensive experience in the narrow woven fabrics has enabled us to offer exquisite designs at competitive rates. Narrow Woven Fabrics are extensively used in belt, bags, bottles and saddler. Manufactured in compliance with the international quality standards, our range is highly appreciated for its perfect finish, high tensile strength, dimensional accuracy and many more attributes.
Based in Mumbai, we are popular across India for manufacturing of Narrow Woven Fabric, Thermoware Tapes, Thermoware Webbings, Safety Belts for climbing, Safety harness, Dog leashes, Fall Protection Harness
Our Products are made for each of our customers as per their individual specifications. We also weave military specification webbings and commercial versions of military specifications.
SOME DOS AND DONTS
Removal of Rope from Coils
Uncoil from inside to prevent kinking
Never stand in line with rope under tension. Recoil under rope failure leads to physical injury.
Never overload a rope.
Avoid ropes showing signs of ageing & wear.
Discard rope if :
Sheath is extremely worn.
Rope has been subjected to extreme loads.
Rope is very dirty & dirt remains after washing.
Sheath shows damage & core visible.
CHECKLIST - CHOOSING A ROPE
We pride ourselves in the ability to develop return customers who need a quality product, service, at good prices.This process has seen Thanawala & Co. grow year to year since it's start in 1986. Our product range is always growing. This growth is driven by our customer's needs and of course the new machinery investments we have made along the way. With great price we say that we are one of the foremost nylon rope manufacturers in india
We are well-known for manufacturing of high quality Polyester Ropes, Braided Polyester Ropes, Sailing Ropes, Arborist Ropes, Tree Climbing Ropes and Nylon Rope