Welcome to Thanawala & Co.
One of the largest rope manufacturing companies since 60's in India called M.BEST COTTON ROPE MFG CO, Estt.1909 gave rise to THANAWALA & CO. in the year 1986.

Having abundance of industry exposure & expertise the company started with supply to the defense sector mainly cordages for parachute usage.

We are represented at various Bureau of Indian Standards Committees primarily due to our strong R&D base. One of our major achievements being in the year 1986-87, we developed Kevlar Balloon tethers for ISRO.

ROPE CONSTRUCTIONS AVAILABLE :

•

3 strand

•

Double braid

•

Kernmantle Rope

•

Solid Braid Rope

•

Combination Rope

•

Hollow braid

•

Diamond Braid

•

Parallel Core Rope

•

Flat Braided Rope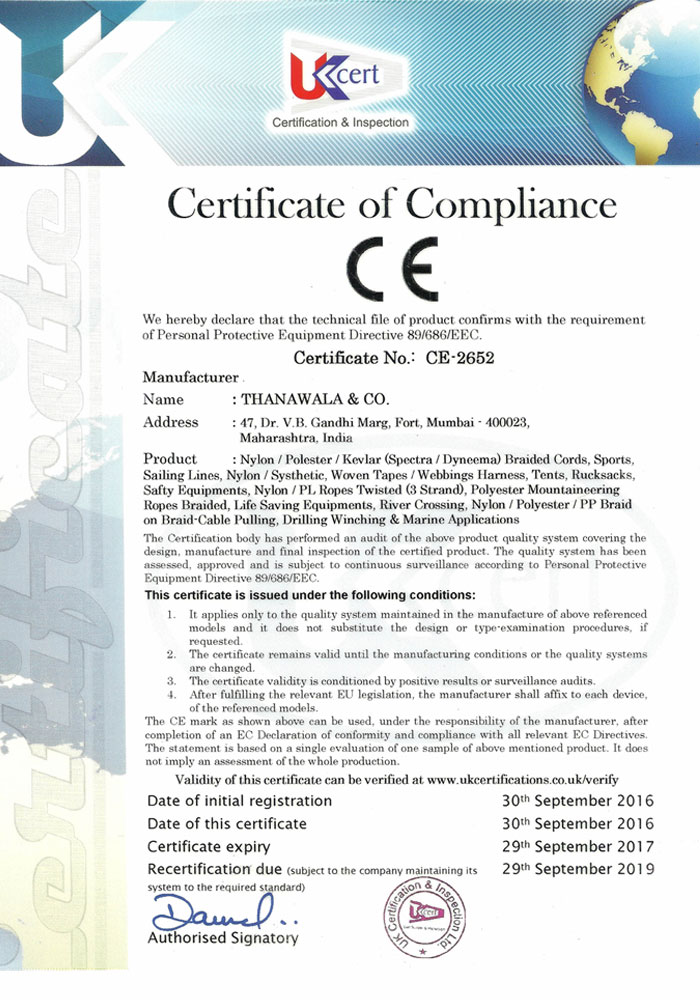 We are one of the leading manufacturers of braided ropes to standard and custom specifications, extruding polypropylene and polyethylene yarns on site. We cater to all types of braided rope needs. This include versatile ropes that could be used for anchor lines, mooring lines, tow lines, running rigging repairs and replacements. Thanawala and co. is at the forefront of rope innovation, combining the latest rope-making technologies with strong and durable materials across mumbai India.
We are one of renown manufacturers of Braided & double Braided ropes in Mumbai, India